Dream Catcher is a popular live action game from Evolution Gaming. Around the site, where all the spinning action takes place, there are many HD cameras, which give players dynamic viewing angles. The gaming experience is enhanced with special lights, sound effects and slow motion replays.
The wheel, which is operated by a live dealer, looks more like a roulette wheel, but not the same as in ordinary casinos, but rather insane. This type of crazy roulette will appeal to bingo fans, but ordinary slot fans will also like it.
What is Dream Catcher
The wheel Dream Catcher consists of 52 numbered pockets in different colors + 2 multiplayer pockets. Each of the rooms has its own unique color: 1 – yellow, 2 – blue, 5 – purple, 10 – green, 20 – orange, 40 – red. Multiplayer is black.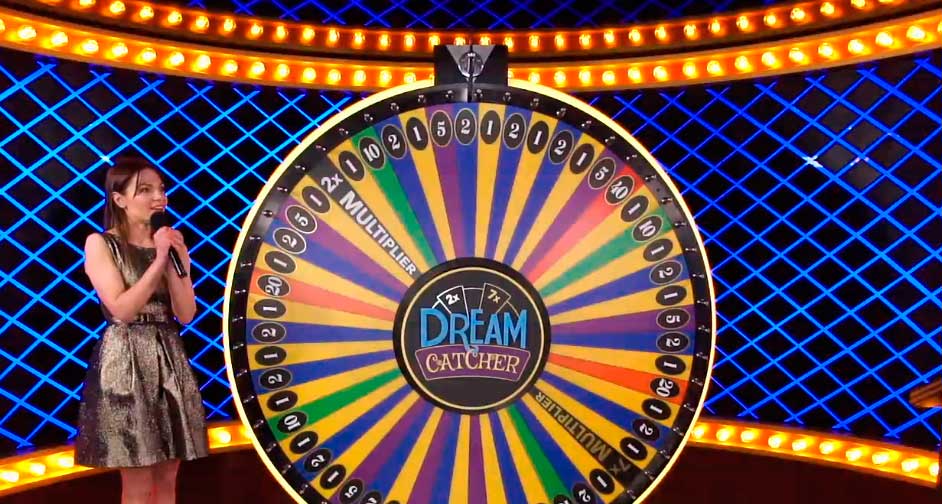 The dealer who spins the wheel and communicates with the players is not always an intelligent young man or a nice girl, at some point it can be a character from a movie, or rather an actor playing an interesting role. This approach to the game, as well as the fantastic design, creates a very festive atmosphere. You will not be bored.
You can play in full screen mode or in a small window. But it's much more interesting in full screen mode with sound on.
Dealers can be both women and men. It is impossible to choose a dealer. But waiting for the right thing is quite real.
There is also an interactive and optional chat feature that allows you to communicate directly with the dealer as well as send messages to other players.
You don't have to worry about the safety of the game. There is no way to manipulate the wheel.
The fairness of the game is ensured by a special wheel design developed by TCSJOHNHUXLEY (the world's leading manufacturer and supplier of live games and services).
Casinos where you can play Dream Catcher
Dream catcher roulette can be played in many online casinos, it is presented in the live games section. Of particular note are the following casinos, where you can try your luck with good bonuses in dream catcher from evolution gaming:
In addition, you can familiarize yourself with the casino rating, where there are also those establishments where you can play dream catcher.
Dream Catcher rules
The rules of the game are very simple – the player needs to guess at which number the needle will stop when the wheel stops spinning.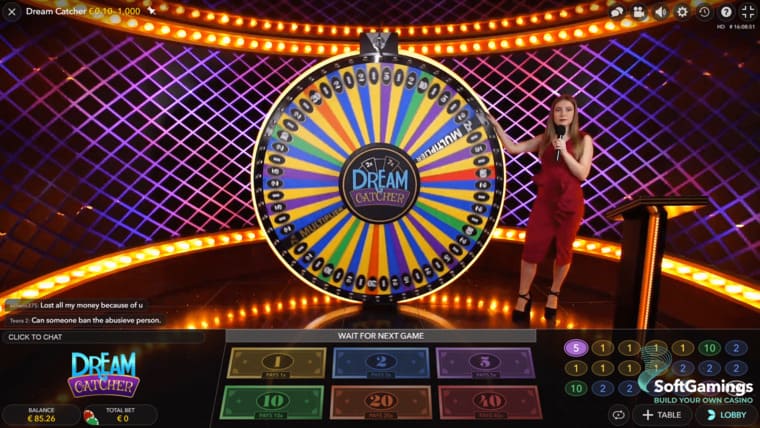 There are 6 betting options:
Bet on 1 – this number occupies 23 sectors.
Bet on 2 – this number occupies 15 sectors.
Bet on 5 – this number occupies 7 sectors.
Bet on 10 – this number occupies 4 sectors.
Bet on 20 – this number occupies 2 sectors.
Bet on 40 – this number occupies 1 sector.
2 sectors with a multiplayer symbol (2x and 7x).
The winning odds correspond to the winning numbers. If the wheel stops at the multiplayer symbol, bets remain active, and the dealer spins the wheel again until it stops at a number. The payout is then multiplied by a multiplier (for example, if the multiplier is 2x and the wheel stops at 10, the payout is x 10 x 2).
Percentage of dropped numbers in Dream Catcher:
Dream Catcher is a very simple game. It does not require complex strategies or special understanding of the rules. All you have to do is place a bet and watch the wheel spin.
42.6% – number 1.
27.8% – number 2.
12.95% – number 5.
7.4% – number 10.
3.7% – number 20.
1.85% – number 40.
Sectors with multiplayer – 1.85% each.
Bets on more than 1 number are allowed and the payout depends on the bet itself. This means that the fewer bets the players place, the higher the payout.